Allan's Blog
12th June 2016
Its been nearly a year since my last Blog, lots of reasons no excuses, so sorry for not keeping you in the loop on plans etc but lets rectify this now.
Our new 18mm ACW range is coming on line in a couple of weeks, thanks to all those pre orders and we are already working on our next addition to the range for October watch this space
Our next project is a large one, something for several months we have been talking to people about our 18mm Napoleon in Egypt range, we have gleaned that what you want from an initial range is, well everything so we are trying to get a balanced list together and we will publish it here and in our Future ranges section hopefully next week.
If your interested please let us know what you think and as its a biggy we are asking for people to pledge so we can see demand and hopefully do the whole range together and those who are interested to pre order can take advantage of our special offer so watch this space.
Next month we will be releasing more Napoleonic 15mm cavalry - Austrian, Prussian, Polish and much more
Lots in the pipeline and even more Ill tell you about later, take care and enjoy your gaming.
13th August 2015
Its been a busy few weeks, our vote for our next range came in and the next instalment of our World War One epic is underway - The Middle East, something I have always wanted to game so another army to paint, although I was voting for the Italian Wars it came in last but its in the pipeline as is the Napoleon in Egypt range.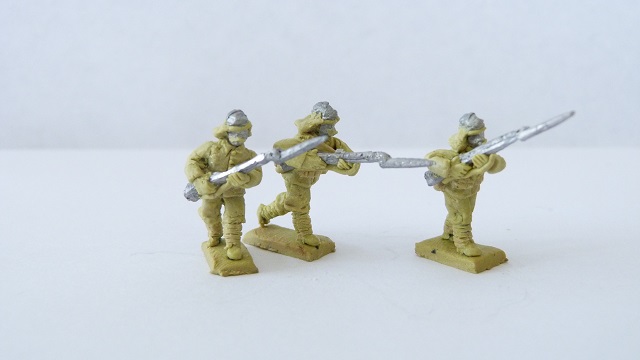 I've also been busy painting some of my own armies and my Carthaginian army is coming along, there are some pictures in the gallery but here are a couple
The Army so far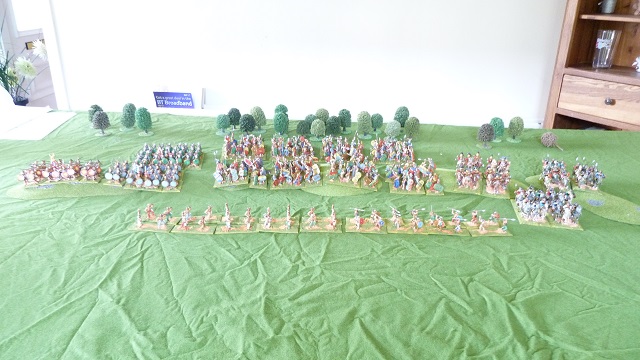 and the Numidian Light cavalry freshly based reinforcements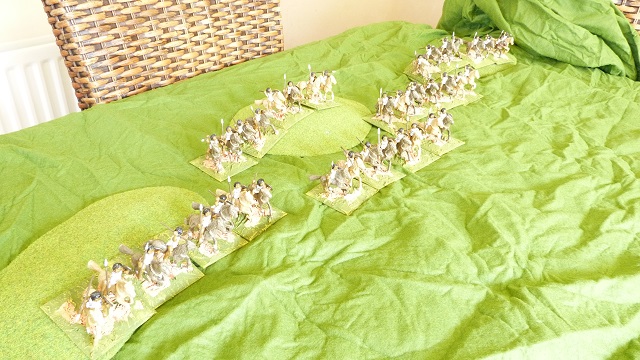 The Spanish cavalry are underway as are the Chariots (to make the Celts into an Ancient British) soon I will be able to start the Romans!
The Club site and Club list are nearly complete thanks for those who sent details, we have spent many hours trawling list of clubs finding lots of dead ends but we have our initial list.
Finally we are fast approaching our shows again, Border Reivers, Partizan, the World Championships, Fiasco then Reading, I'm looking forward to them all, especially the weekend away in Reading. But next year I'm looking to add a few more shows, already added Hammerhead, possibly Salute and a couple of others, so if you can suggest a show that you think we would enjoy near you drop us an e mail and we will look into it.
Now the Final, Final thing is to tell you that we are going to be adding lots more figures to the WW1 ranges in the next 12 months, inc East Africa and  lots of colonial and minor states, plus we have got underway with our Limbers and we should be releasing the first before the end of this year
One last thing to add is how much we at Lancashire Games appreciate your support we are very lucky to work in our hobby and we like to deliver what you all want so again any suggestions please mail us and you never know
24th April 2015
Another busy month getting ready for Salute and the shows coming up in May and answering all your e mails regarding the future ranges and the club registry, thanks for the info and help.
To fill you all in the future ranges, people seem most interested in the WW1 Middle East and the Napoleon in Egypt, we are making no decisions until the end of May but in the meantime I am getting the designer started on a couple of codes from the 3 ranges to wet your appetite.
As for the club registry we will hopefully have completed our gathering info by the end of May ish and then we will be doing the mail out to show our club offer.
In the next month we have a new release, a little surprise hopefully for the middle of June, we have a designer slaving away a the moment and if all is well there will be pictures available just after triples of the masters, so watch this space.
On a slightly different note this is an appeal for help, not for me but for a little girl called Olivia. As some of you may know I have been fostering for the past 27 years, it has been and always will be a great joy looking after children and I have maintained contact with many of these children and regard them as my extended family, I also adopted one of these children Reece who you will see at the shows sometimes. Anyway a sweet little girl called Amber who I fostered, who I love so dearly has returned to her family and through contact I met a little girl called Olivia, soon to be Ambers step sister.
Olivia is a bright little girl funny, clever but she has a problem, she has Cerebral Palsy, there is an operation that can help her walk and give this little girl a chance of more independence and a greater opportunity to do more, unfortunately our National Health Service will not fund this operation, they would rather leave this young girl to struggle and need special support for the rest of her life, and in the meantime fund stupid ugly models having boob jobs, or vain idiots getting nose jobs or healing the self inflicted alcoholics of this world or people who want gender changes. So the young parents of Olivia have the problem of raising the money for this operation and the physiotherapy after and have started to raise money. I know there are thousands of  causes and people who need help, but we cannot help everyone we can only help whop we can so I'm asking you to please help with a small donation this little girl and give her a future  that we all take for granted and then pass on to friends and family or through social media this link and make this beautiful funny little girl a happy funny little girl, as I said we cant help everyone so please help the one you can OLIVIA
www.justgiving.com/oliviaswish

I hope some of you can help and will be willing to pass on this request to everyone you know and help this little girl
On that note I will let you have another blog soon and pictures of the 4 x 48 figure Celt units once I paint all the shields and base over the next 14 days as my 28mm Carthaginian army grows
7th July 2015
Hi a little late with the blog, but its been a hectic few months, but at last more new ranges, the samples for the 15mm Renaissance, Napoleon in Egypt and WW1 Middle East will be on the site in a day or two for your last votes before we get stuck in, don't forget the one with the most votes will be up first and our 25 % pre release offer.
Our Club discount scheme will be ready soon hopefully we are compiling the list of clubs ready for its launch in a week or two so watch your mail boxes and if you haven't already register your club hopefully you will like the scheme, plus it will be there for people to find your club and hopefully get you a few extra members.
Thanks for all the pictures send in from everyone I'm always interested as are lots of people to see the different styles of real gamers and the games they play.
My personnel challenge come new armies, is my Punic war collection,  the moment completed the African Heavy Infantry, all the Celt foot and the Carthaginian Heavy cavalry, pictures up next week and the next addition will be Celt cavalry.
That's it just to say watch out soon for some new Blaze Away 28mm Spanish as well......